Burn injuries can lead to devastating pain and suffering for victims, and they can also cause significant scarring and disfigurement. Burn injuries can occur in a wide variety of ways in and around the Houston area, often due to the careless or negligent actions of other individuals or companies.
At the Doan Law Firm, our team is here to help if you need a Houston burn injury lawyer. We have the resources necessary to conduct full investigations into these cases so we can determine liability and help victims secure the compensation they need.
Burn Injury Resources
To quickly reach any section on this page, click the appropriate link below:
Why Choose the Doan Law Firm?
How Will an Attorney Help Your Claim?
Severe Burn Injuries
Burn Injury Facts You Need to Know
Rights for Financial Compensation After a Burn Accident
What Laws Can Be Used to Seek Compensation for a Burn?
What Damages Can Be Recovered?
Is There a Statute of Limitations for Burn Injuries?
What if You Are Partially Liable for an Injury?
Why Choose the Doan Law Firm for a Houston Burn Injury Case?
Founder Jimmy Doan has a track record of success handling explosion and burn injury cases throughout the US, and the Doan Law Firm has secured tens of millions of dollars on behalf of clients.
The burn injury lawyers at our office are available 24 hours a day, 7 days a week, for communication regarding your case.
We take Houston burn injury cases on a contingency fee basis, which means that injury victims will not have to worry about paying any legal fees until after we obtain the compensation they are entitled to.
How Will Attorneys Help Your Claim?
When a severe burn injury occurs due to the careless or negligent actions of another party, it is crucial to have an attorney by your side. A skilled Houston burn injury lawyer will have the resources necessary to fully investigate the cause of the incident. This will include gathering evidence from the scene of the incident, such as eyewitness statements, video surveillance, photographs, and more. An attorney will also work to ensure that their client is evaluated by trusted medical and economic professionals so they can adequately calculate the total expected losses.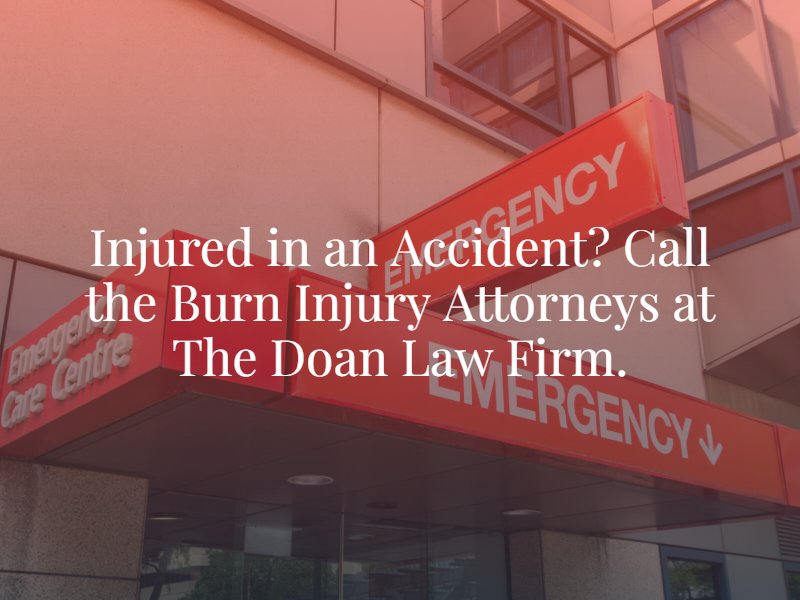 Burn Injuries Can be Severe for Victims in Houston
Unfortunately, burn injuries are often severe. Regardless of how a burn injury occurs, it is not uncommon for injury victims to suffer from third- and fourth-degree burns. This is particularly true for explosion incidents, which may also cause chemical burns. The Houston explosion accident attorneys at the Doan Law Firm have a track record of success helping those who have suffered serious burns in a preventable incident.
Both third- and fourth-degree burns are considered "full-thickness burns." This means that the burn destroys not only the outer layers of a person's skin, but also the inner layers of the skin as well as muscles, tendons, and even bones. These injuries can lead to a person needing extensive medical care and surgery as well as rehabilitation and physical therapy. Often, burns of this severity result in significant scarring and disfigurement for the victim.
Burn Injury Facts You Need to Know
Burn injuries are not uncommon and they can be incredibly devastating. Some of the most common facts about burn injuries that you should be aware of include:
Most fires that occur in residential buildings are caused by defective heating equipment, electrical problems, and cooking accidents.

The most common causes of fire in non-residential buildings are intentional lighting (arson), carelessness, and accidents.

California, Texas, and Pennsylvania lead the nation in fire-related deaths.

Approximately 6 out of every 10 individuals injured or killed in the fire are men.

For every 1,000,000 people in the US, around 10 are killed and 50 are injured as a result of fires.

Native Americans and African Americans face the highest death rates as a result of fires.

Individuals over the age of 80 have the highest death rate from fires. 

Individuals in their 30s face the highest injury rates from fires.
What Rights for Financial Compensation do I have if I was Burned in an Accident?
If you or somebody you love is injured in a fire that was started by another individual or entity, you may be able to file a personal injury lawsuit against the other party to recover compensation. One of the most challenging aspects of fire incidents is locating the party responsible for causing the fire. 
Investigating the cause of a fire is not as easy as TV shows and movies make it out to be. There are often many parties blaming one another for causing a fire, and it is not uncommon for individuals to claim that the fire started due to "an act of God." Depending on the situation, there may be multiple entities investigating the fire, including law enforcement investigators, fire department officials, insurance carriers, and legal teams. There will need to be clear and distinct evidence that shows that a defendant's negligence was the cause of the fire.
Additionally, if there was any contributory negligence (meaning more than one party was involved), filing a claim will be even more challenging. If the person injured in a fire is also partially responsible for causing the incident, they may not be able to recover compensation at all. It will be important to look at the state's comparative negligence laws in these situations. Generally, individuals more than 50% responsible for an incident will not be able to seek damages, but this varies from state to state. A burn injury attorney can help you navigate this complex process and be a fierce advocate for you or your injured loved one.
What Laws of Legal Precedence can be Used to Seek Compensation for My Burn Injuries?
Building a civil case after a burn injury occurs can happen in a variety of ways and will depend heavily on a number of factors. There are several types of lawsuits that could be filed for fire-related injuries or deaths, including:
Intentional torts

. When a fire is started on purpose, this means that a person intentionally lights a commercial building, residential building, or another type of structure on fire. In these lawsuits, it will be crucial to prove that the intentional lighting of the fire was wrong.

Negligence cases. If it is not possible to prove that a person intentionally set a fire, a negligence case will be most appropriate. In these situations, it will have to be shown that the defendant (the person alleged to have caused the fire) owed a duty of care to the plaintiff (the injury victim). It will then have to be shown that the defendant breached this duty of care in some way and that their breach caused the injuries and damages.
Product liability. Product liability lawsuits are designed to go after manufacturers or retailers when their products cause injuries or deaths due to a defect. In these situations, it will be necessary to prove that the product was defective, and there are multiple parties who can be held liable along a product's distribution chain. Product liability claims are typically considered to be strict liability, meaning it is not necessary to prove the negligence of these companies. A Texas product defect attorney will work diligently to show that the product was indeed flawed in a way that directly caused the fire that led to injuries or casualties.
It is critical for you to work with a burn injury lawyer as soon as possible. When an attorney gets involved, they will work diligently to investigate the claim and determine what type of lawsuit should be filed to help you recover maximum compensation for your losses.
What Can I Legally Recover in the Way of Compensation for My Injuries?
The compensation paid out to burn injury victims can be comprehensive and include a number of items that many individuals may not think about right away. At the Doan Law Firm, our team works diligently to help individuals recover both economic and non-economic compensation on behalf of every client that we help. This includes, but is not limited to, the following:
Medical bills

. It is crucial for burn victims to recover compensation for all of their medical bills. This includes any emergency medical expenses as well as all follow-up hospital and doctor visits. Additionally, burn injury victims should receive compensation for any surgeries, prescription medications, or medical devices needed to help them make a full recovery.

Lost wages

. It is not uncommon for burn injury victims to not be able to work at all or not be able to return to the same type of job as a result of their burn injury. These individuals should be able to receive lost compensation benefits for any wages they can no longer earn.

Property damage expenses

. In the event a fire also causes property damage to the plaintiff, the defendant should have to pay for these damages as well. This can include payment to repair or replace structures as well as any property damaged inside the structure.

Pain and suffering damages

. As with other types of injuries, brain injury victims are likely to experience substantial physical and emotional pain and suffering. This type of pain and suffering can be debilitating and significantly affect a person's life.

Disability and disfigurement damages

. Burn injuries often leave physical scars and disfigurement, and this can lead to additional pain and suffering and humiliation. When scars and disfigurement are visible to the naked eye, this can significantly affect a person's well-being as well as their standing in the community. Unfortunately, this can affect social life and job prospects. Individuals should be compensated for any losses caused by the disability or disfigurement.
There is no set amount of compensation set aside for burn injury victims. Rather, the total amount of compensation paid to these individuals will vary depending on the particular situation at hand. Some factors that can affect total compensation include the severity of the injuries, how long it takes to recover, the level of property damage, and more. Our burn injury lawyers always seek the maximum compensation for your injuries, so you can receive the advanced medical treatment you deserve.
What is the Time Limit for Filing a Lawsuit for a Burn Injury?
Every state sets a time limit for how long injury victims have to file lawsuits against the individual or entity alleged to have caused the injury. In Texas, the personal injury statute of limitations is two years from the date an injury occurs. This means that burn injury victims have a two-year timeframe with which to file a lawsuit against the alleged negligent party. Failing to do so will result in the case being dismissed by the court and the victim being unable to recover compensation for their losses.
What if You Are Partially Liable for a Burn Injury?
Even if you are partially at fault for causing your own burn injury in Texas, you may be able to recover compensation for your losses. Texas operates under what is called a "modified comparative fault" law, which means that individuals can recover compensation so long as they are less than 51% responsible for the incident. Any individual found to be 51% or more responsible for causing their own burn injury will be unable to recover compensation for their losses.
However, there is a caveat to this. Individuals who are partially at fault will receive reduced compensation based on their percentage of responsibility for the incident. For example, if a person sustains $100,000 worth of medical and surgical bills as a result of a burn injury, but a jury determines that they were 30% responsible for causing the incident, then they would receive $70,000 instead of the full $100,000.
Call our Houston Burn Injury Lawyer Today
If you or somebody you care about has sustained a serious burn injury caused by the actions of another individual or company in the Houston area, reach out to the team at the Doan Law Firm for help as soon as possible. Our injury attorneys have extensive experience handling complex burn and explosion injury cases, and we have the resources necessary to help you secure the compensation you need. This can include coverage of your medical bills, lost wages, pain and suffering damages, and more. When you need a Houston burn injury lawyer, you can contact us for a free consultation of your case by clicking here or calling 800-349-0000.