When discussing explosion injuries, the word "catastrophic" is a recurring theme. That is because injuries from explosions are just that – catastrophic. Victims of explosion injuries are often permanently disabled and unable to live the life they are accustomed to. In the aftermath of an explosion injury, victims often turn to the Doan Law Firm for help recovering the compensation they need. Here, our explosion attorneys want to discuss the most common injuries that we encounter in these incidents. If you have suffered an explosion injury our attorneys are ready to fight to get you compensated.
Explosion Injury FAQ:
Do you need an attorney for explosion injuries?
What are the common injuries in explosion accident claims?
Where are the most common locations for explosion injuries to occur?
Who is liable for an explosion injury?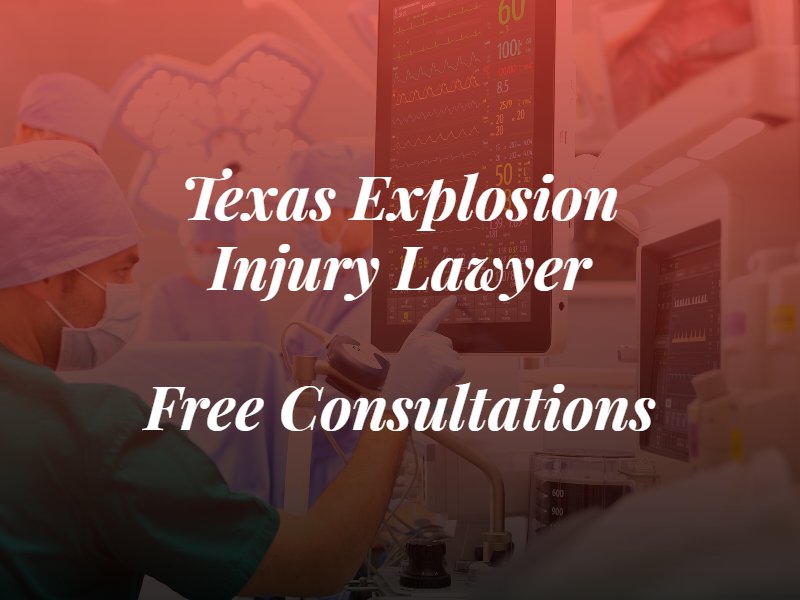 Why Choose The Doan Law Firm For Explosion Injury Cases?
In the aftermath of an explosion injury, you and your family need to turn to an attorney you can trust both personally and professionally with your case. The Doan Law Firm is ready to help.
We are one of the largest personal injury firms in the United States and have more than 40 locations throughout the country that can provide you with the resources you need.
Because of our large presence, we are able to provide every client with excellent service and communication throughout the entirety of their case.
We have a proven track of success litigating explosion accident cases and have secured verdicts that totaled over tens of millions of dollars.
We take all explosion injury cases on a contingency fee basis, which means our clients pay no upfront or out-of-pocket costs. We only collect legal fees after we win the case.
Do You Need an Explosion Injury Lawyer To Help?
In the aftermath of sustaining an explosion injury from an explosion accident, most victims do not have the resources or legal experience necessary to determine liability in their case to recover the compensation they need. In these cases, an explosion attorney will be an invaluable resource. An attorney will be responsible for handling the entire case, including:
Obtaining all evidence related to the incident (video and photo surveillance, eyewitness statements, accident reports, and more).
Researching the history of the employer or company involved (if applicable).
Working with medical and economic experts to properly calculate their client's total losses due to their injuries.
Negotiating with insurance carriers and other parties involved in the incident to secure full compensation for their client.
Understanding The Different Injuries That Can Occur Due To An Explosion
Due to the varied nature of explosions, there is a range of injuries that can occur. These injuries can be the result of the initial blast wave, due to flying debris, or due to structural collapse caused by the explosion. Here, we describe the various types of explosion injury categories.
Primary injuries
These injuries are caused by the blast wave (over-pressurization wave) striking a person's body. In these cases, the gas-filled structures inside of a person's body, such as their lungs, middle ear, and gastrointestinal tract, can be affected. The blast creates a pressure differential that can cause internal damage. Primary injuries can include:
Abdominal hemorrhages
Abdominal perforation
Concussions (without blunt force trauma)
Secondary injuries
Secondary injuries are those that are caused by flying debris and fragments in the immediate aftermath of the explosion. These injuries include the following:
Blunt force trauma injuries
Lacerations
Traumatic amputations
Impalement or other penetrating injury
Head injuries
Tertiary injuries
These injuries are the result of a person being thrown in an explosion due to the blast wind/wave. Any part of a person's body can be affected by these injuries. Tertiary blast injuries can include:
Traumatic amputations
Broken bones and fractures
Soft tissue injuries
Severe bruises
Lacerations
Open head wounds
Spinal cord injuries
Traumatic brain injuries
Quaternary injuries
These injuries are used to describe any injuries not listed above, but that are also a result of the explosion. We can break these down into traumatic injuries, illnesses and diseases, and emotional and psychological trauma.
Traumatic quaternary injuries include crush injuries, burn injuries, closed and open brain injuries, and any other traumatic injury not caused by the initial blast wave.
Illnesses and diseases can be caused by inhaling dangerous particles or smoke in the aftermath of an explosion. This can include cancers, lung diseases, COPD, and more. Explosions can also lead to the exasperation of previously existing medical conditions such as hypertension, heart problems, respiratory illnesses, etc.
Emotional and psychological injuries can also occur in victims of explosion incidents. This can include fear, anxiety, depression, and more. In some cases, explosion victims could sustain post-traumatic stress disorder (PTSD) as a result of the incident.
How These Injuries Affect Explosion Injury Victims
There are various ways that explosion injuries can affect a victim. The most obvious way the victims are affected is the pain they sustain due to their injuries. Victims can also expect to incur major medical expenses, as well as other "hidden costs" such as possible home and vehicle modifications to aid in mobility, the cost of travel to and from medical specialists, and a loss of income if a victim can no longer work or experiences a diminished earning capacity.
Explosion injuries affect not only the victim but their entire family. Their financial livelihood could be put into jeopardy, which is why it is vital that any negligent party be held accountable.
Where Do Explosion Injuries Occur?
To be clear, explosion injuries can happen just about anywhere throughout the country. However, the very nature of the major industries means that we deal with a significant amount of explosions each year.
Industrial and construction accidents. Workplaces often present heightened explosion risks. This is particularly true for those who work on oil rigs, in oil refineries, in chemical plants, or in any other industry that uses combustible or flammable materials. Employers must ensure that every worker has adequate training and that they have proper safety gear to mitigate explosion injury risks.
Gas pipeline or propane tank explosion. Whether in an industrial setting, inside of a home, or in a neighborhood, pipeline, and propane tank explosions often lead to severe injuries. These incidents are regularly caused by improper training of employees, defective parts, inadequate maintenance, etc.
Defective products. Many products that Texans use on a daily basis present a risk of fire or explosion. It is imperative that companies and manufacturers ensure that these products are safe. Faulty products can range from something as tiny as a valve or connector inside of a water heater to something as large as entire sections of a pipeline.
Residential or commercial fires. Commercial and residential fires are often caused by poor construction or faulty wiring. When incidents occur, there could be various parties involved, including landlords, homeowners, general contractors, engineers, architects, or another party responsible for the inspection and maintenance of the facility.
Motor vehicle accidents. Explosions involving motor vehicles can happen in the event a collision occurs as well as due to faulty products related to the electrical, battery, and fuel systems of the vehicle.
Gross negligence. In many cases, explosions are caused by the gross negligence of other individuals. Anytime a person consciously disregards the safety of others around them, serious injuries can occur. Gross negligence concerning explosion incidents can include employers not properly training workers, companies knowing that there was an explosion risk for a product and failing to issue a recall, or a person intentionally causing an explosion.
Who is Liable for Explosion Injuries?
The most vital aspect of obtaining compensation for victims in the aftermath of an explosion accident is determining liability. When working to understand who was at fault for the incident, we will have to examine the nature of the explosion. As we examine where explosion injuries occur above, we can see the vast array of possible liable parties. This can include any party whose negligence is found to have contributed to the explosion incident, such as:
Oil industry facility operators or owners
Employers who fail to uphold proper safety standards
Third-party contractors at employment sites
Defective product manufacturers or retailers
Negligent drivers in vehicle accident cases
Utility companies that fail to maintain their infrastructure
The job of your explosion injury attorney will be to investigate every aspect of your case to determine liability. They will uncover all evidence necessary to prove fault for your claim. In the uncovering of this evidence, the liable party should become clear. In some cases, there may be more than one party liable for the explosion incident, which means that multiple parties could become defendants in a lawsuit.
Our Attorneys Are Ready To Help You Secure Compensation For Explosion Injuries
If you or somebody you care about has sustained an injury due to an explosion caused by another person's careless or negligent actions, you may be entitled to significant compensation. The total amount of compensation that an explosion injury victim receives will differ from case to case and is dependent on the specific factors related to their particular injuries. However, it is not uncommon for the explosion injury attorneys at the Doan Law Firm to help clients recover the following:
All medical expenses related to the explosion accident
Any income a person loses if they cannot work
Pain and suffering damages
Loss of personal enjoyment damages
Possible punitive damages against those responsible for the explosion
When you need an explosion injury attorney, you can count on the Doan Law Firm to give you the support and guidance you deserve. Contact us today to see how we can help you secure the compensation you need in these difficult times.